Posted by UC Zilla, Headset Specialist on May 21st 2021

It's all about the sound, 'bout the sound – no noises!
You wanted it and Poly delivered it…. Poly introduces the all-new Microsoft Teams and Zoom Compatible Voyager Focus 2 premium Bluetooth headset for consumers, contact centers, education, finance, healthcare, government and more.

Who needs it? People who work remotely (hybrid workers) or those in busy offices. "In the latest research done by Persona Research*, 94% of the people responding said that background noise is the most distracting", as quoted by Roger Ogborne of Poly company. Now, with more people working remotely in their home office, they are experiencing an array of new types of distractions with barking dogs and noisy children.

The Voyager Focus has been a favorite and best seller since Poly first released it. With Voyager Focus 2, it's like having an invisible wall surrounding you by combining Poly's world-class leading edge noise-canceling technology to build a "focus zone" with the Voyager Focus 2 headset. Combining Poly's premium active noise-canceling (ANC) technology with their Acoustic Fence technology, the new Voyager Focus 2 delivers an unprecedented wireless audio experience that keeps you in the zone regardless of what type of noise is in the background.

Digital Hybrid Active Noise Canceling blocks out more background noise than traditional ANC. Background noise is not only distracting to you, but also to those at the other end of the call. Have you ever made a customer service call only to hear rowdy children or barking dogs in their background? So very annoying!

Battery Life – The Voyager Focus 2 has increased battery life with talk time up to 19 hours for those extra long conference calls. And, For those long sessions, it can be also used as a corded headset with audio over the included USB cable.

Microsoft Teams – The Voyager Focus 2 is Microsoft Teams certified. The Teams version has a convenient dedicated Teams button and an LED that signals others when you are on a call.

Connectivity - Voyager Focus 2 connects with all of your devices and is available both as a UC version and as an Office version. The UC version connects to your mobile phone via Bluetooth and to your computer via the new BT700 Bluetooth USB adapter. This all-new adapter is 50% smaller than the BT600 and has an improved wireless range of up to 164ft/50m. The Office version connects to a desk phone and your computer through cables which are included, and to your mobile device via Bluetooth.

Warranty is two years.

How do the Voyager Focus headsets compare? See chart below: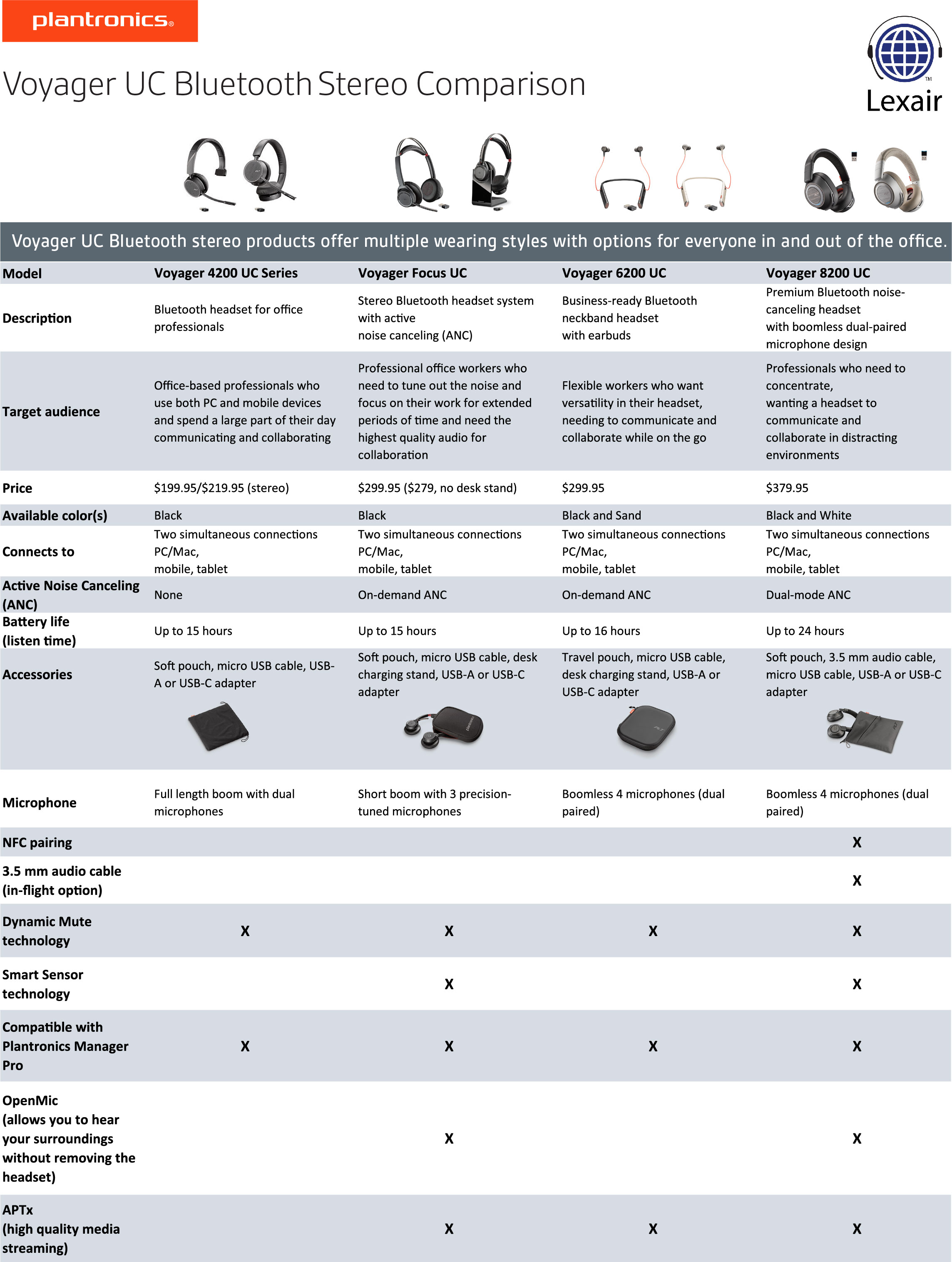 To view the entire family of Voyager Focus headsets, click Focus.

For more information about the complete family of Voyager Focus and Focus 2 available products, please contact us.
*Persona Research October 2020 Factworks